Email Multiple Users
This screen will allow you to upload an excel spreadsheet guide you through the process. First you will need to prepare a roster keeping these points in mind.
Each horizontal row of the excel spreadsheet with a valid email address represents a single SWEAP electronic ticket code that will be mailed.
It is preferred that you place the email addresses in the first column.
Any other information that is not an email in the line will be imported as the name

Some programs have used this to indicate groupings, such as an instructor name or class section is displayed in the subject line to the student.

Additional emails can be placed in other cells, and they will receive a copy of the email.
The person logged into the account will also get a copy of the email to their account email.
Once this feature is used, the SWEAP codes will not be reused again if you upload a new sheet. Thus you can upload each class individually instead of needing to assemble one large excel file. This allows for one to upload the roster shortly before the scheduled section meets. Since emails cannot be retrieved after being sent, if there are mistakes, you will need to edit each link in the main administration screen manually, one-by-one.
This system will send emails immediately after the final button is pressed and you should receive confirmation and a copy of the email.
SWEAP does not guarantee timely delivery of email, or whether the emails are filtered out. They may take several minutes to reach an inbox. It is prudent to test the system with your own inbox to gauge if the emails are being filtered for your institution.
The following example would only send rows 2 and 3. The first and last rows do not have an email address.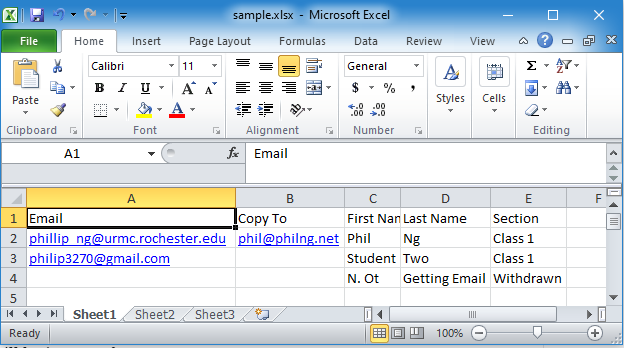 After sending this example, the administration screen shows the first two SWEAP administration codes being utilized. If someone did not receive the email (due to typo or email deletion,) you can resend, or change the email by pressing "Send Email Again" on the main administration screen.

To begin, press the "Choose File" button below and then press "Submit".