History
When did it start, and didn't is use to be called BEAP? Find out the back story and how far we have come.  Read more…
Our Team
We are a diverse group of Social Work educators from different schools around the country.  See the team…
News
Find out what's happened, what's happening and what's about to happen.  Read more…
---
SWEAP is a non-profit, 501(c)3 organization.  Our team members volunteer their time as a way to give back to the social work education profession.  
**AS OF AUGUST 1, 2019, WE WILL NO LONGER BE PROCESSING PAPER INSTRUMENTS.**  
If your program has completed paper forms, please mail them in for processing before August 1st.  If your program has unused paper forms, mail them in to exchange for online instrument credit.
SWEAP Contact
SWEAP C/O Department of Social Work
Metropolitan State University of Denver
PO Box 173362 CB 70
Denver, CO 80217-3362
Annual Summer Meeting 2019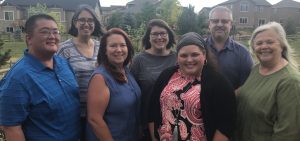 Phil Ng, Kathryn Krase, Tobi DeLong-Hamilton, Kristin Danhoff, Dana Sullivan, Brian Christenson, and Ruth Gerritsen-McKane.