Instrument Use
SWEAP's Field Instrument (FPPAI) and our Curriculum Instrument (FCAI) are sufficient to provide a direct measure (FPPAI) and additional measure (FCAI) of multiple dimensions of all EPAS 2015 competencies. The Exit Instrument provides a measure of multiple aspects of the Implicit Curriculum.
Aggregated reports for the FPPAI, FCAI and Exit Instrument are formatted to provide the necessary information for reporting assessment in response to EPAS 2015, and regional accreditators.
Helpful Resources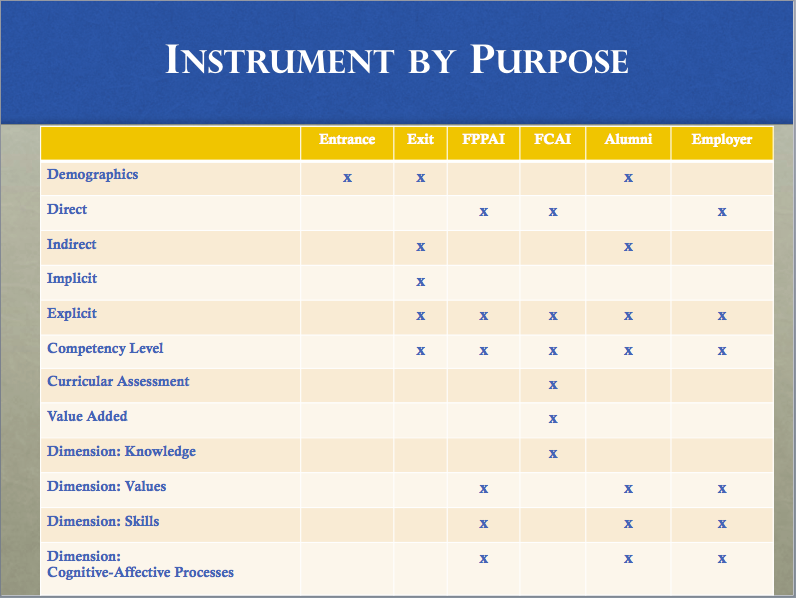 Archive & Outcomes
In 1987, the BPD Outcomes Assessment Instrument was first circulated for BSW Programs to use in evaluating the experiences of their alumni/ae. It was revised in 1990 to incorporate optical scanning technology in the gathering of data. This revised version was used continuously through 1999, and amassed a national database of over 9,000 BSW graduates. This database has been the basis for numerous publications (below)on baccalaureate social work education.
BSW Programs were sent a copy of the BPD Outcomes Instrument, a Use Agreement, and a Facesheet of basic Program information. Scannable sheets were ordered at a nominal cost, and Programs were permitted to duplicate the survey questions themselves. Programs mailed the instrument to graduates who were certified within the previous two years, and collected the scannable sheets which were returned. The Facesheet of basic information on each BSW Program was completed and submitted along with the completed scannable sheets for analysis. Within two weeks, the Program received a full univariate descriptive analysis of their own data compared to the existing overall BPD database at the time of analysis.
Reports From BPD Outcomes
Archived Presentations
---
Video How To's… (coming soon)
How do I order SWEAP instruments?
How do I use paper or online instruments?
How do I submit my instruments for processing?
How do I get a report?
How do I read and interpret my reports?